As a viewer, are you worried about how safe is Twitch and if your information is being protected on Twitch? You are not alone.
About 74% of internet users in the US are more concerned with their online privacy than they've ever been.
Like any other social media platform, with Twitch there are constant ongoing doubts and questions about privacy-related issues as a viewer. In this article, we will address common questions you may have about how safe is Twitch for a viewer and your privacy and information protection on Twitch.
Wherever possible, real-world testing was done to write this article by using two different Twitch accounts on two PCs and networks, one for streaming a game, and the other for viewing the stream.
1. How safe is Twitch: can Twitch streamers see your IP?
No, Twitch streamers can't see your IP.
While Twitch will have access to your IP address to help you be connected to the platform, they will not share this information with a streamer, as they are just another user of the platform.
An IP address is a unique address that identifies a device on the internet or a local network. It enables information to be sent between devices on a network. Therefore every time you visit any website, the website needs to view and know your IP in order to provide the information requested.
Think of it like this – Every time you order on amazon, they need to have access to your home address so they can deliver the product. Similarly, when you watch a stream or interact in any way on Twitch, they have access to your IP (as that is where it sends the stream data). But the streamer has no access to it in any form. The streamer is just uploading on a Twitch server and Twitch is handling the rest of the job of distribution from there.
2. Can Twitch streamers see lurkers?
Yes, Twitch streamers can spot names of the lurkers amongst the list of stream viewers.
Lurkers are visible to the streamer, as they are also watching the stream, even though they may not be engaging with the stream in any way (chat in the chatbox, follow, etc.).
Streamers can always see the number of viewers viewing their stream, the 'Display Name' of people chatting in the chatbox with the message they sent, and the complete list of viewers.
3. Can Twitch streamers see your email?
No, Twitch streamers can't see your email via Twitch. However, if you share your email ID with the streamer on chat, through a survey, or while donating, they can see your email ID in those cases.
The email that you provide to Twitch is only for account verification and communication purposes for Twitch. This information is not shared by Twitch with the streamer. A streamer would only be able to see your display name in the list of viewers.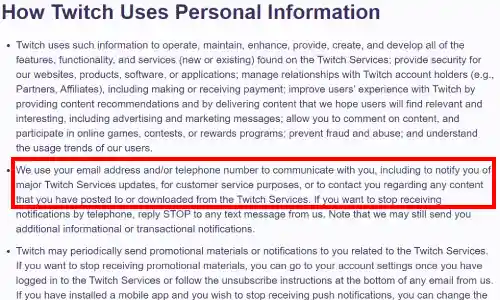 4. Can Twitch streamers see your real name?
Twitch streamers can see your real name if you use it as your Display Name. Else, they have no way of knowing your real name.
Every Twitch account has two names – Username and Display Name. The Username is lowercase and used for logging into Twitch, while the Display Name is your publicly visible name where you can play with the case of the letters in your Username. Your Display Name is what shows up on chat, viewer list, etc. So both of them are essentially the same, the only difference is that Twitch Display Name allows for capitalization.
What is Username and Display Name on Twitch?
Username is what you use to log in to Twitch, along with your password and Two-Factor Authentication, if available. It is all in lowercase and unique. You can change your Username once every 60 days. Also, your old Username is unavailable to everyone but you for a period of 180 days from the date of the change.
Display Name is basically your publicly visible name on Twitch. It can be changed multiple times and accepts capitalization of letters on the Username. Whenever you interact with anyone in any stream or go live, etc. your Display Name is shown to everyone.
5. Can Twitch streamers see who follows them?
Yes, Twitch streamers can see who follows them.
Whenever you follow someone on Twitch, the streamer will be notified that <Display Name> has followed them. Your <Display Name> with your profile picture will come up with all their other followers in the Twitch Dashboard.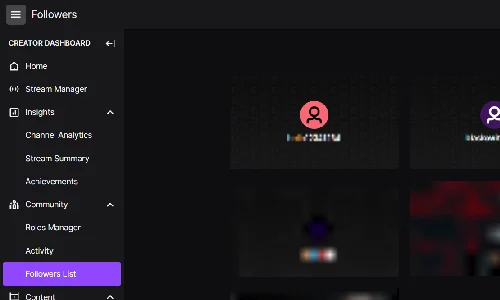 6. Does Twitch notify screenshots?
No, Twitch doesn't notify screenshots.
Unlike Snapchat screenshot notifications, Twitch does not have the technology through which you can get to know if someone has taken a screenshot. The streams are also not DRM (Digital Rights Management) protected, which means there is no content protection protocol in place. So, you would be able to take clear screenshots and Twitch cannot and would not notify streamers if you take a screenshot as a viewer.
7. Can Twitch streamers see your face?
No, Twitch streamers can't see your face via the Twitch stream.
If you are just a viewer who is only viewing, chatting, or following a stream, the streamer can most definitely not see you. However, if the streamer is streaming a video stream using a video chat software like Discord, Google Meet, etc., and you decide to be a part of the stream with your camera enabled, then not only the streamer but all their viewers would be able to see your face.
8. When you watch a live stream can they hear you?
No, when you watch a live stream they can't hear you via the Twitch stream.
If you are only viewing, chatting, or following a stream, the streamer would not be able to hear you. However, if the streamer invites his stream to participate via a voice chat software like Discord, TeamSpeak, etc., streaming the voice chat audio and you are in the same voice chat talking with your microphone unmuted, then not only can the streamer but so can all the viewers of the stream hear you.
9. What does invisible mean on Twitch?
Going Invisible on Twitch simply means that you will appear offline to all your friends on Twitch and they will not be able to view your activity, etc. This, however, does not affect your interactions inside someone's stream. So you can chat, follow, or subscribe to streamers and you will be visible as discussed above.
In Conclusion
It is important to keep in mind that on the internet, nothing is safe. There is increasing awareness about privacy and data safety, and that is the first step in ensuring your safety online.
While these answers on FAQs related to "how safe is Twitch" is derived from publicly known information and self-experimentation, anyone can choose to exploit loopholes (if any) on Twitch or use spyware that can allow him or her to access things it shouldn't have. You can compare it with the concerns over Smart Home Assistants like Google Nest speakers eavesdropping on conversations. You just have to take the parent organization's word for it.
Happy and safe streaming!