As a streamer, tracking stats and growth metrics like viewers and followers are important to measure your success.
In this article, we will discuss 4 ways how to see who is viewing your Twitch stream, both live and after your stream is over. Wondering how you can see your followers on Twitch? We will answer that question in this article, along with other FAQs.
Let's get started.
How to see who is viewing your Twitch stream?
The simplest way to see who is viewing your Twitch stream is by your very own stream chat. Open Twitch chat screen, click on the 2 stick figures or people icon on the top right corner, "Users in Chat". A complete list of viewers currently live on your stream will pop up.
Twitch provides all Twitch users, whether they are creators or viewers, two important sets of information when it comes to understanding viewer stats of the stream, Viewer Count, and Viewer List. You can use both these stats to see in combination how many viewers are on your Twitch stream and identify them by name.
Method 1: How to see who is viewing your Twitch stream with the Viewer Count
You can use the Viewer Count method to see how many people are viewing your Twitch stream live concurrently. You can see the Viewer Count in red below the Twitch video player.
Every time someone watches your live channel, that person is counted as a viewer. When they stop watching, the number goes down.
This method will not tell you who exactly is watching your stream but would give you a general idea about the viewership trends.
Method 2: How to see who is viewing your Twitch stream with the "Viewer List" or "Users in Chat"
You can use the "Users in Chat" or "Viewer List" to see who all are connected to your chat. To access the viewer list, click the people or the 2 people stick figures icon on the top right corner of Twitch stream chat.
This list only includes users who have a Twitch account and are connected to the chat. They may or may not be active in the chat.
Method 3: How to see viewers on Streamlabs?
Streamlabs lets you go a step ahead and view total viewer count across platforms by adding a Viewer Count widget to your stream. This widget integrates data across platforms like YouTube, Twitch, etc., and shows the total viewer count. You can even set viewer count targets, and encourage your audience to invite their friends to join the stream so you hit your viewer targets.
To see who exactly is viewing your Twitch stream on Streamlabs, you can access your chat window same as Twitch, by clicking the 2 people stick figures icon.
Method 4: How to see who is viewing your Twitch stream by doing a shout-out on the stream?
This last method is simple – just do a shout-out of the person's name on the stream to ask them if they are on. They can reply on the chat to let you know if they are viewing your Twitch stream.
How to see who viewed your Twitch stream after the stream is over?
After you are done with your stream, you can visit the Stream Summary page in your dashboard to see who viewed your Twitch stream. The Stream Summary shows you a snapshot of your stream, including performance stats, audience insights, top clips, progress towards achievements, and more.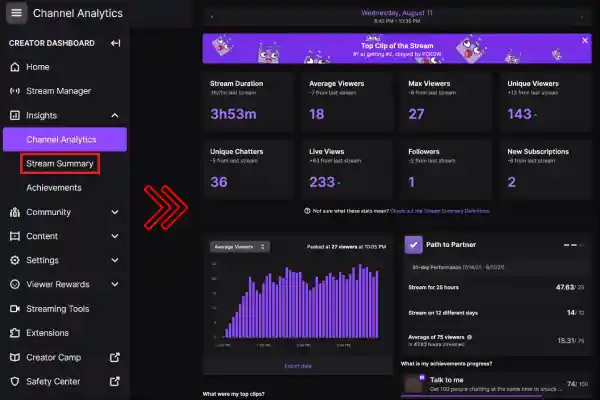 Stream summary gives you important information and stats as below:
Overall stats from your recent stream – A summary report from your most recent stream, including viewers, followers, chatters, and more. You can use this summary to compare your progress from your previous stream.
Charts – In five-minute increments, charts about your most recent stream, including average viewers, new followers, and more.
Viewership stats – Stats on who viewed your Twitch stream, and how they found you. The summary would include just the total number of views, and not the names of the viewers. Source of views would be listed as Twitch pages and products (e.g., Followers, Browse Page), Twitch channels, and external sources. You can also click View Details for more referral data.
Followership stats – You can also check how well you converted viewers into followers and subscribers in comparison to the last stream.
Top clips – Up to five of your favorite clips from your stream. The stream's top clip is also included at the top of your Stream Summary. To view a clip, simply click on it.
Achievements – This section highlights your progress against "Path to Affiliate" or "Path to Partner", by displaying how far along you are in hitting the goals to achieve affiliate or partner status.
Do lurkers count as viewers on Twitch?
Yes, lurkers count as viewers on Twitch. Lurkers are viewers who have your stream on but are not participating in the chat. They make up the majority bulk of your viewers. By Pareto's principle, up to 80% of your viewers may be lurkers.
Just note, for a lurker to be counted as a viewer, they have to be playing your video. Your stream can also be open in another window. But in case anyone puts your stream on pause and goes AFK, that may not be counted as a view.
How do I see my followers on Twitch?
You can visit Twitch Creator Dashboard → Community Tab → "Followers List" to view your Followers List.
Knowing how your channel is performing is important for any streamer, which means checking your follower list is essential. Once upon a time, seeing who followed you on your channel page was as simple as a single click. This is no longer the case following the redesign in 2020. Instead, you'll have to go out of your way to discover it, as it's now four clicks down on the Creator Dashboard.
On the Desktop app, you can easily see the Followers List with the help of the Creator Dashboard. The navigation above, Twitch Creator Dashboard → Community Tab → "Followers List", will display a grid of everyone who is currently following you, along with their names and avatars.
How to see who follows you on Twitch on mobile?
On Twitch mobile app, you can see the number of followers by tapping the profile icon on the top left corner → View Dashboard → Stream Manager.
If you need to access your detailed follower list, you can open your preferred mobile browser and enter the link template below. Just replace the "CHANNEL-NAME" with your channel URL. This will take you directly to your list of followers.
"https://dashboard.twitch.tv/u/CHANNEL-NAME/community/followers-list"
It is recommended to create a bookmark on your phone so that you can simply tap a button and access the follower list again in the future.
It's a little difficult to check your followers on a mobile device compared to the Twitch desktop app. You simply can't see who follows you on Twitch at all on a mobile device, only the number of individuals who follow you. Even the native Twitch app lacks the ability to bring up the list of followers right now. But you can follow the methods above to simplify your life a bit.
Can you see Twitch watch time?
You can see Twitch watch time on the Channel Analytics page. You can navigate to your Channel Analytics by clicking Insights → Channel Analytics via the icon on your dashboard.
The Channel Analytics page provides a detailed breakdown of your stream's revenue, viewership, and engagement statistics over a variety of date ranges. You can better understand revenue and viewership trends with these detailed breakdowns.
The Channel Analytics page defaults to showing data from the previous 30 days. By clicking the arrows to the left and right of the current date, you can move it back or forward 30 days. To choose a custom date range, click on the date picker in the center and select a start and end date using the calendar that pops up.
For more statistics like hours streamed, hours watched, or total views, reputable third-party sites like TwitchTracker are a good reference.
Can you see who watches your stream on Discord?
Yes, you certainly can. Just click on the stream, and on the right, you'll see the names and avatars of everyone who is watching.
In terms of streaming on Discord, it is very handy for both the streamer and the viewer to see all of the people who are watching the Live due to the user interface being rather simple to use.
Can you see who is watching your YouTube live stream? What about Facebook Live?
You can see who is watching your YouTube live stream by clicking on the three dots in the top right of the live chat and then on participants. Keep in mind that this only displays the names of active viewers; it does not display the names of individuals who have tuned out of your stream.
Unfortunately, you cannot currently see who is watching your stream on Facebook Live.
In closing
Tracking your viewers and followers on Twitch is an important measure of success. You can follow these easy ways to set yourself up to follow these metrics periodically.