Retro games have their own place in everybody's hearts.
Over the years, video game's gameplay has advanced many folds. But retro game fan following lives on. A large number of people still obsess about them as it gives them a sense of nostalgia. And of course, these games are still very engaging.
No wonder, the world is just not ready to abandon these retro games yet. And as a streamer, so should you not.
Streaming retro games on Twitch is the new trend, with 1.3M followers till now in 2022. Here's a complete Twitch Retro guide, on how to stream retro games on Twitch.
How to stream retro games on Twitch?
There are many ways to stream retro games on Twitch. I have listed some popular ways how you can go Twitch Retro, by streaming retro games on Twitch or any other streaming platform like Youtube.
???? Tip: Don't forget to include the tag Twitch Retro when streaming, for better discovery.
1. The old-school way of connecting your retro console (SNES, NES, Gamecube, etc.)
You can capture your retro gaming console's output to your PC using capture cards and broadcasting tools like OBS to play and stream these old-school games.
It is the purist way of playing retro games and the most loved.
Although, you have to keep in mind that these consoles were designed for functioning best on a CRT television as their cables, resolution, etc. were specifically designed for them.
The video output of these consoles is mostly 240p or 480i, mostly not supported by modern monitors. Hence you need to convert to HDMI and interpret the footage in software.
Check out the video by KoachKrab127 about how to stream your retro console on Twitch, he has also made an entire playlist for streaming on Twitch from a retro console.
Youtube Video Playlist to stream retro on Twitch.
2. Using the latest NES Classic Edition or the Super NES Classic Edition consoles
These latest classic edition consoles from Nintendo are the closest to getting the retro feeling on a modern device.
You can directly plug these consoles into your monitor or HD TV as they come with an HDMI port.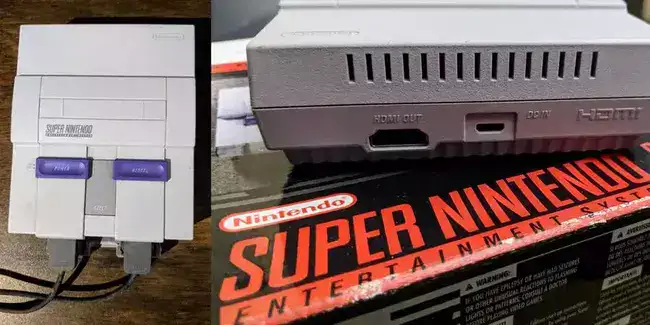 This eliminates the hassle of converting and upscaling the video using cables like the one shown in method 1.
All you need is a capture card to capture the audio/ video feed of the console to your PC.
Below are the details of these consoles.
I hope you find my analysis useful! The section below contains links for Retro gaming consoles. As an Amazon Associate, I earn from qualifying purchases, at no extra cost to you. Learn More.
Price ~$250
Retro Console by Okahaha– It comes with 821 pre-loaded games which would be more than enough to quench your retro thirst!

It has an HDMI port and can even connect to your 4k television

NES Classic Edition – It comes with 30 pre-loaded games, one NES Classic Controller, and one HDMI cable.

Popular Games– Donkey Kong, The Legend of Zelda, Super Mario Bros 2 & 3, Metroid, and many more

SNES Classic Edition – It comes with 21 pre-loaded SNES games and includes 2 retro-style controllers and an HDMI cable.

Popular Games – Unreleased Starfox 2, Super Mario Kart, Super Mario World, The Legend of Zelda, Super Metroid, Street Fighter 2, Final Fantasy 3, and many more popular titles
3. Using an online arcade platform to play official retro games and stream on Twitch
You can use an online arcade platform that allows you to officially own the copy of the game that you purchase and play it without the need for a console.
There are some arcade platforms that do this and allow you to own your retro game copy digitally. These games can also be streamed via Mac.
A couple of popular online arcade platforms are:
Amazon launched a great platform for cloud gaming called Luna and it's awesome for playing and streaming your favorite retro games to Twitch.
With the Amazon prime membership, you can play a bunch of rotating games without paying anything extra.
Also, you can connect your Twitch account directly with Luna as both platforms are owned by Amazon. You can stream to Twitch directly from Luna.
Top Features
Connect to Twitch to stream games without the worry of licensing it
Play split-screen co-op games with friends via Luna Couch
Play games up to 1080p/60fps
Play on supported PC, Mac, Fire TV, Fire tablet, Chromebook devices, select Samsung Smart TVs, and web apps for iPhone, iPad, and Android phones
Access to a growing catalog of games
List of Popular Luna retro games:
Contra collection
Street Fighter 2
1942, 1943
Metal Slug
Megaman
Earthworm Jim, 1 & 2
Missile Command
Antstream arcade has over 1000+ officially licensed retro titles which can be played on their platform. Along with single-player it also boasts custom challenges and tournaments that you can play with other users.
List of Popular Antstream games:
Mortal Combat
Pac-Man
Double Dragon
Space Invaders
Asteroids
Rampage
Galaga
Rolling Thunder
Super Star Wars
Earthworm Jim
You have an in-game gems wallet where you spend gems to play any title. It's an ad-funded platform and thus can be played free by watching ads in lieu of gems.
If you want an ad-free experience, you can purchase the Antstream subscription which starts at £6.99/month.
Why stream retro games?
Streamers are actively streaming retro games as viewership for retro games has stood well against time.
The viewership doesn't seem to fall any time soon with studios bringing back either the re-mastered or newer versions of their renowned retro titles. People enjoy watching them and would continue to do so.
What are retro games?
Retro games, also known as classic games or old-school games, are games played on systems that have now become obsolete. These games still hold value due to their nostalgia and authenticity factor.
These games are perceived as being original and innovative for their era and being the point of origin for new games today. Their simplicity draws attention to the fact that gameplay has evolved so much, but the core of gaming still remains the same.
What games are considered retro?
Games which are usually 2 or 3 generations old are qualified to be considered as retro games. These games are usually 15-20 years older than the current generation. So most games that were launched before the early 2000s or late '90s are considered retro games.
Any game more than 20-25 years which falls out of the relatable context may become an antique. But the boundaries are not clear in this regard.
These games were mostly played on NES, SNES, Sega Genesis, Gamecube, Gameboy advanced, and PS1 consoles. The list is constantly getting updated and some even consider PS2 and early Xbox consoles as retro.
Games like Contra, Super Mario, and Prince of Persia are a few popular retro games.
Why are retro games still so popular?
Retro games instill a feeling of nostalgia when you play them and trigger a positive emotional response. These games are simplistic, easier to understand, and well, obviously, fun!
Going retro is like time traveling to a universe stuck in time with all your favorite memories intact. Endless nights of watching or playing a level even thousands of times only to cross to the next one.
These games are also popular due to the fact that there are fewer distractions while playing, and you don't have to wait for long cutscenes before you start interacting with the game.
The old-school games were also complete. There were no DLC packs or extensions post the game release. You can, if you are good at it, finish the game in merely 3-4 hours and complete all the levels. In short, they were wholesome, fun, and entertaining.
With next-gen games coming, their mechanics and gameplay became complex and hard to understand, whereas retro games are as easy and fun as they can be.
Can I stream retro games on Twitch?
Retro game streaming is allowed on Twitch as long as you have purchased the game. In some cases, the game should also be played on its original hardware (SNES, NES, Gamecube, etc.).
Can I stream emulators on Twitch?
Streaming retro games with the use of emulators is a grey area and sometimes can land you in trouble if the game mechanics are altered by the emulator in any way.
Emulators themselves are not illegal to stream but it depends on the game publishers to determine if the emulator has altered the game's proprietary code.
Also, the use of cracked versions of games on emulators is strictly prohibited and can land you in trouble.
Who are the popular Twitch retro streamers?
Here's a list of some popular Twitch Retro streamers. You can visit their channel for some ideas to get started.
| Streamer Name | Subscribers | About the Streamer |
| --- | --- | --- |
| TheMexicunRunner | 125k | Speedruns NES, SNES games |
| Arcus | 60.7k | Speedruns NES games |
| Macaw45 | 18.9k | Variety streamer of cool old and often obscure games |
| SpeedrunHypeTV | 13k | 24/7 Retro & Modern TAS + Longplay Gaming Channel |
| RetroLongplay | 9.7k | Nonstop retro gaming TV channel |
In closing
Retro gaming continues to hold viewers' attention and interest, even though there are a plethora of new games available.
This article would get you started with ways to Twitch Retro. So go on, explore every possible retro game out there. And do not forget to tell your childhood stories while playing these games to your Twitch chat!