Streamlabs is one of the leading streaming software out there. But in November 2021, Streamlabs got involved in a massive controversy of being a pushover and copying features of other popular software like Lightstream and OBS.
Since then, we have seen a mass exodus of streamers looking to disassociate themselves and move to alternatives to Streamlabs. This is despite the fact that Streamlabs has come out and given their explanation, and also resolved the way forward with OBS.
As a streamer, you get to decide if you want to be associated with Streamlabs. Here are top Streamlabs alternatives and their pros and cons.
Top Streamlabs alternatives for its broadcasting tool (erstwhile Streamlabs OBS alternatives)
OBS is the OG, free, open-source streaming and recording software. It has a slightly dated UI and you need to go through a few tutorial videos before you can start streaming. Because it is open-source, it allows customizing almost everything but setting it up can be complex for a beginner.
OBS Pros:

Free
Highly customizable
Lightweight
Opensource
Industry-leading
Write own scripts
Windows and Mac compatible

OBS Cons:

Complex
Dated UI
Find relevant plugins through research
Not beginner-friendly

OBS Users: Medium to professional individual streamers
2. Twitch Studio (Streamlabs alternative FREE)
Twitch Studio is a free software designed by Twitch for streaming to its platform only. It includes a few customizable templates, has a guided setup, and is directly integrated into Twitch. This makes it the best choice for a beginner, although you have to move to some other software as your viewer base grows.
Twitch Studio Pros:

Free, Intuitive UI
Guided setups
Direct integration to Twitch
Beginner-friendly

Twitch Studio Cons:

Stream only to Twitch
Can be CPU resource-intensive
Limited functionality

Twitch Studio Users: Beginners
3. XSplit (PAID, 30$- 70$/month)
XSplit is geared towards the business side of streaming and has more features relevant in that aspect. It lets you live-stream/record Skype, Discord, Zoom, or Teams meetings. A unique and handy feature is its ability to use your phone's camera as a wireless webcam.
It also includes a background editor to blur, remove or simply replace it without using a greenscreen. "XSplit supports Twitch Chat, Facebook Chat, and YouTube Chat Widgets.
It does let you stream games from your PC and other consoles as well. It also has a trial version but is restricted with a watermark and content cannot be used for commercial purposes.
XSplit Pros:

Intuitive UI
Guided setups
Multi-Streaming
Plenty of plugins
Custom Transitions

XSplit Cons:
XSplit Users: Online events and professionals
4. Lightstream (PAID, 7$-40$/month)
Lightstream is a unique cloud/browser-based streaming software that lets you start streaming from the browser directly without any downloads. It allows full design and stream layout customizability. It even has a mobile app that you can use to control the stream directly from your phone.
Another unique perk is the ability to send a link that a person can open on their browser and directly join the stream and even be able to share their screen. You may need a good internet speed of a minimum of 5 Mbps upload speed to get a smoother experience with Lightstream.
Lightstream Pros:

Intuitive UI
Cloud-based
Less CPU intensive
No downloads
Remote control through mobile

Lightstream Cons:

Upto 1080p 30 fps only
Sound issues
Min 5mpbs upload speed

Lightstream Users: IRL streamers, vloggers, remote location streaming, Low spec PC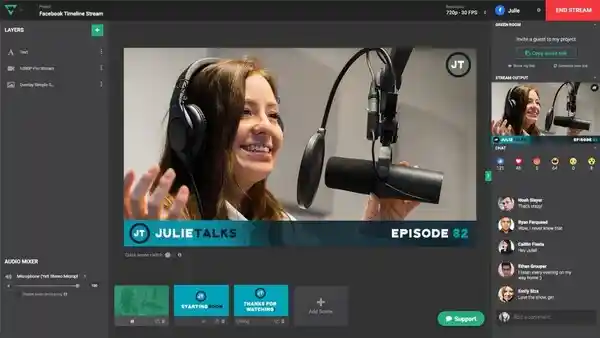 5. Wirecast (PAID, 599$-799$/month)
This is a costly, professional streaming software. It allows unlimited sources, a built-in professional audio mixer with multiple inputs, the ability to stream to multiple destinations and record at the same time, and the ability to view a 17 source grid per attached monitor letting you view all the sources at a glance.
Wirecast Pros:

Multiple camera and sound inputs
Unlimited output destinations
Multiple simultaneous recordings
4096 x 3072 max resolutions
Advanced features

Wirecast Cons:

Expensive
High spec PC required (i7 and above)

Wirecast Users: Music festivals, Live sports streaming
Top Streamlabs alternatives for features as addons
6. Restream (Streamlabs alternative FREE, 0$ -49$ / month)
This nifty software allows you to stream to multiple destinations (30+) at the same time. While some software like Wirecast and Streamlabs allows this directly from their software, certain software like OBS do not.
So in case you are using OBS, Xsplit, Wirecast, etc., you can use restream to stream to Twitch, YouTube, etc. at the same time for free.
Restream Pros:

Multistreaming
Scheduled videos
Cloud hosting

Restream Cons:

Dropped frames while multistreaming over wifi
Requires good internet connectivity and stability

Restream Users: Company updates, Product demos, Webinars, Flash Sales, etc.
7. StreamElements (Streamlabs alternative FREE)
This software enables easy customizability of your stream overlay, the ability to add unique alert boxes, and an easy setup for merch and direct donations. It also has a chatbot for moderating your stream chat.
StreamElements Pros:

Customizability
Monetizations methods
Free to use
Growing library of elements
Better profit margin for merch than Streamlabs

StreamElements Cons: Not many cons as it's free to use with great features
StreamElements Users: Individual Streamers
8. Nightbot (Streamlabs alternative FREE)
It is a powerful but free cloud-hosted chat bot for Twitch and YouTube used by many professional streamers. It has a host of features like song requests, giveaways, timers, etc., commands (to automate certain tasks like sharing promotional links), and a fully searchable chat log.
Nightbot Pros:

Free
Cloud-based
Automated tasks

Nightbot Cons:

Many bots in the market, like Moobot, Ankhbot, etc.

Nightbot Users: Streamers with a good following
If you own a 10 series Nvidia GPU or better, you can download Nvidia Broadcast and tweak the audio settings as needed. It will remove almost all background noise from your microphone without suppressing your own voice. It is super effective and works almost like magic for a free software.
Nvidia Voice/Broadcast Pros: Effective and useful for low spec audio configuration
Nvidia Voice/Broadcast Cons: Only works for Nvidia 10 series GPU
Nvidia Voice/Broadcast Users: Budget streamers with high-end GPU
Top Streamlabs alternatives as hardware
Elgato offers multiple streaming hardware and corresponding software. They have capture cards, microphones, webcams, lighting, green screens, and external docks to control the stream with dedicated keys.
They all come with their own software for control. Even though it is costly to set up, professionals swear by them because of its durability and reliability and for the huge, diverse ecosystem.
Elgato Pros: Huge library of products for streamers
Elgato Cons: A bit on the expensive side
Elgato Users: Budget as well as pro streamers/ gamers
Is there a better program than Streamlabs?
OBS is sought as an alternative to Streamlabs Desktop but Streamlabs as a whole is more of a marketplace where you get all streamer-related things in one place. The marketplace itself can be replaced by a bundle of specialized tools, created and made available by other streaming tool developers, like Nightbot, Elgato, etc.
Streamlabs with a free and a paid version has created a streamers' one-stop solution marketplace. It can be comparatively light on system resources. The UI is simple, user-friendly, and customizable, which makes it easy for beginners to start with Streamlabs. On the website, you get access to a lot of widgets (like alert boxes, donation goals, etc.) along with instructions on how to use them.
However, for advanced streams and customization, Streamlabs doesn't give you as much flexibility.
Streamlabs desktop has a good interface with more out-of-the-box functionalities, but with OBS you can customize to your heart's desire
OBS will have better performance than Streamlabs as Streamlabs is built on OBS's framework and has customized the interface from a streamer's perspective. The interface costs a small performance impact
Cloudbot which is Streamlabs' own chat moderator is not as powerful as Nightbot, which remains the first choice for many streamers
You should consider OBS and other specialized tools for the freedom of choice they provide and not be limited to just one marketplace. It may take some time to master them all completely, but you'll get an edge by building your skills sooner rather than later.
Streamlabs pros and cons
With Streamlabs prime membership ($19.99/month), you get access to a host of features like the ability to stream to multiple destinations, 'Pro Themes', and more than 46 apps to customize your stream and make it unique. It has a super simple thumbnail maker, merchandise, and a lot of paid sponsorships all inside the software/website.
With the Streamlabs mobile app, you can control the live stream from your mobile. With the online dashboard available on their website, you can view analytics about your previous streams. A new feature recently added is its logo maker which is free to use.
However, there are allegations of plagiarism and not giving due credit to the original creator/ artist. These may be considered malpractice in the streamer community.
Let us look at Streamlabs pros and cons:
Streamlabs Pros:

Marketplace
Competitive pricing
Multiple features
Monetization features

Streamlabs Cons:

Allegation of copied features
Can be resource intensive
Better alternatives to streamlabs are available for individual features

Streamlabs Users: Begginers, mass market product
It is simple enough to be used by beginners while can be modified to suit the needs of the professionals with add-ons. Although it is one of the most popular software out there, there are many other alternatives to Streamlabs, each with its own pros and cons as discussed earlier.
Factors to consider when choosing a Live Streaming software
To shortlist which Streamlabs alternative you should go with, consider the factors below –
Intuitive and clean UI – Whether you are just starting with streaming, or you are an experienced pro, everyone loves a clean UI with intuitive controls
Ease of customizability – It is really important that the software allows customizing your stream in various ways so that your stream can stand out from the rest of the streams. Almost every streaming software allows customizing. Just evaluate from an ease of use perspective
Not resource-intensive – The streaming software should not take up a lot of system resources. You or your viewers will not like watching or playing a game with choppy framerates and stutters
In Closing: Some tips for streaming
The streaming software and tools marketspace are now far and wide. While Streamlabs does offer a plethora of functionalities, other specialized and niche streaming tools do the job better. So, the choice is yours!
Whichever way you go, here are some tips for streaming to make a smooth stream.
Make sure to have a stable internet connection with at least 5 Mbps upload speeds (for full HD, 1080p streams)
Do not expect to stream a game that you can barely run on your computer. In my experience, having an extra CPU core helps when streaming intensive games. You can also buy an external capture card and offload the processing power to it
Make sure to turn off all music in-game/around you. The last thing you want is a copyright strike
Balance audio levels so that your voice is clearly audible (but not deafening). Make sure that your in-game audio is not so loud that your own voice is inaudible
Create a schedule, display it in one of your overlays and stick to it
Happy streaming!