Twitch Streaming Schedule – 5 Ways to Promote and Attract Attention
(With Bonus Content on How to Plan Your Twitch Streaming Schedule and 9 Reasons Why it is Important to Have a Streaming Schedule. Let's go!)
Streaming is just like the good old cable TV in modern times. I remember waiting for my favorite show (DragonBall Z) every evening at 5 to catch all the exciting and mind-blowing stuff. Nowadays, I get the same feeling when I am trying to catch my favorite streamer at the same time every day. 
It would be extremely difficult for you and me to catch our favorite TV shows if we did not know when it was going to air next. That is why all streams, like TV shows, should have a set schedule to let viewers know that they are going to go live.
In this article, I share 5 ways to help you promote your streaming schedule that draws attention. Also, answers to all your streaming schedule-related questions, right here!
5 ways to display your streaming schedule to boost viewership
Check out the 5 ways listed below to help you set up and promote your Twitch stream schedule that can boost your viewership. You can follow these instructions to set yourself up for success!
1. Set up your streaming schedule on Twitch
Go to Twitch.tv and visit Creator's Dashboard under your profile icon
Head over to Settings -> Channel -> Schedule. Add your Stream Schedule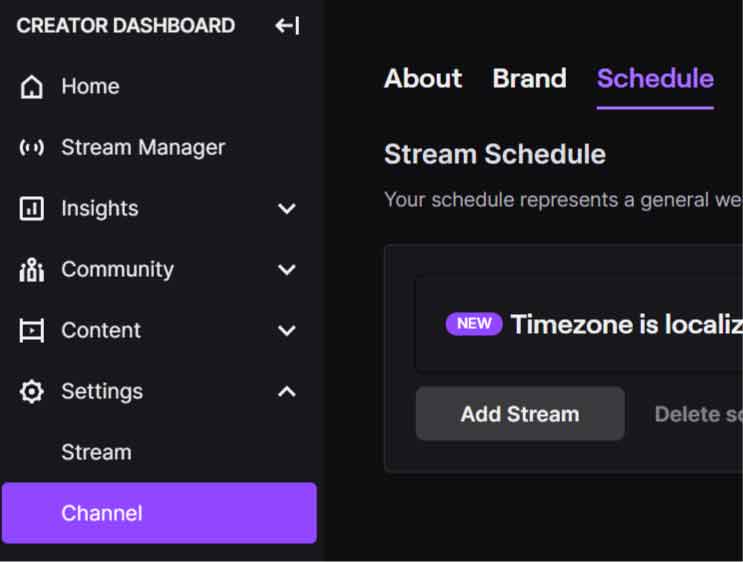 Add you Stream Title
Choose your Category or Game
Select preferred Stream Time, this will be in your timezone
Set Frequency – you can only choose one day to repeat
For multiple streams, add new stream by repeating the steps
Repeat these steps to generate your desired stream schedule
2. Create custom banner for your page
Create a banner on your page which specifies your Twitch stream schedule. This banner would be displayed on your homepage. So, people who visit can catch it directly from your homepage. The more you display your schedule, the more chances it has to get noticed.
Head over to your Brand page under Settings -> Channel -> Brand. Find the profile banner section and upload your custom image as a banner.
Add a banner that displays your stream schedule
If you want to create such cool banners, check out Placeit.net or Canva. These websites have hundreds of customizable banners and save a lot of time. If you have more time, go ahead and design one yourself on software like Photoshop, Illustrator, or Gimp.
3. Update your BIO
Writing about your streaming schedule in your BIO section will help your viewers know when to find you. You can find it under your Channel Settings in the About section. You can mention your streaming days and time in your Bio.
4. Promote streaming schedule on Twitter, Facebook and other social media platforms
Grab a screenshot of your streaming schedule for the upcoming month and post it on Twitter, Instagram, or Facebook.
5. Add a smart-looking stream schedule and countdown widget
Head over to Creator's Dashboard. Then open the My Extensions panel to load any of these widgets.
Streamlabs Stream Schedule & Countdown Widget
Check out Streamlabs Stream Schedule & Countdown Widget to show a countdown timer till your next stream. This will also show your stream schedule as per your viewer's timezone.
Configure days and times when you will be streaming. Select your timezone
Activate your extension and add it as a new panel
Your countdown timer would look something like this.
Schedule with Google Calendar
This widget allows you to set a schedule directly into your Twitch stream from your Google Calendar. It also gives great flexibility to schedule your stream seamlessly from your own personal Google calendar.
Get this extension here: Schedule with Google Calendar created by nixxquality
Weekly Schedule Extension
This is a cool little list panel with all the days mapped out in a list format. It also detects your viewer's timezone setting from the browser and shows as per their timezone.
Check it out here: Weekly Schedule created by NonlinearGenetics
These are some cool, effective, and free ways to promote your channel and apprise the audience of your streaming schedule.
Also, a way to hook your audience to your Twitch schedule is to inform them about the content type that they would be engaging in, on the said date and time. This creates curiosity and excitement about the content even before the stream starts.
Now that you're all set up – time for some Bonus Content on how to plan your Twitch streaming schedule, and why it's important.
How to plan Twitch streaming schedule
Planning your streaming schedule may be more beneficial than you may realize. So, you should choose your Twitch streaming schedule according to your lifestyle and personal obligations like school, job, or family. You should also plan your Livestream as it suits your viewer's schedules.
It is absolutely important to pick a schedule that works both for you and your viewers.
Listed below are 5 important aspects when planning for a Twitch schedule:
1. Pick the best days to stream
There are no defined perfect days that work for all streamers at all stages. Things have become more dynamic now. You have to check the best days which work for your game or content. Also, you have to keep doing the calculations from time to time to understand the general pattern.
You can check out twitchtracker.com to find the avg. viewership and number of viewers throughout the week. Then, calculate when the ratio of viewership per channel is favorable to you and your type of game, and stream accordingly.
If you want to calculate the best days for your stream, you can check out my article on Best Time to Stream on Twitch: A Definitive Guide for in-depth details.
2. Know your audience
You have to know your audience before you can plan when your audience would be watching. 
Go to your competitor's Twitch channel which closely resembles your content type, personality, and age. Find their community where they already are (like Discord, chat, etc.). Interact with them to understand demographics like their age and location, and behavior like their free time, etc.
Keep a watch to see when they are more engaged or find a time when potential viewers are lurking but the streamer is offline. Use the information to your advantage and find a time slot where you think you can engage with them.
3. Find your choice of competition
Based on your Twitch live stream stage, find the right time slot where you can compete. The peak time for streaming is generally between 4 PM – 9 PM UTC. Most of the popular streamers stream during this time. 
Based on which stage you are at, find a time slot when you think there can be more viewers.
Find a detailed breakdown of streaming time slots here.
4. Plan according to your content type
Your content type defines your viewers. Like Minecraft, which is popular amongst kids and young teens. You will find them busy during the mornings in school, hence you can stream in the afternoons when they come back.
CS:GO popular amongst college students and even mature audiences can have wider time-slots available like at night or even mornings.
Just chatting, music and vlogs are suited to busy time slots as well. They need fewer eyeballs watching it glued to the screen and can be heard as well.
5. Assess your streaming capabilities
Last but not least, assessing your streaming capability in terms of a schedule is really important. You have to know your preferred days and time-slots, where you can find a chunk of time to stream.
You need to arrive at how much time it takes for you to analyze and prepare your content. This will allow you to calculate the time between two streams.
If time is a constraint, find out how much time you can spare in a week to Live Streaming. Split that time over three or four days, keeping in mind that you need a minimum of three hours per stream for better growth. Shorter streams of 3 hours each are also good for leaving your audience wanting more, and they are more likely to catch you again. 
However, don't let your limited streaming ability discourage you. Keep at it.
You have to use each broadcast as a learning lesson. Find ways to improve your stream by reviewing your VODs. This will allow you to grow and become a better streamer in the future.
To make the most out of your streaming hours, it is essential to not rely on Twitch alone to promote you. It is well known that Twitch keeps the most popular streamer on top and makes it difficult for the new streamers to get noticed.
9 Reasons why streaming schedule is important on Twitch
I have listed below 9 reasons why it is important for you to have a streaming schedule on Twitch or any other platform of your choice. If you've not set up your schedule yet, this section of the article should definitely push you to do so.
1. It allows you to build a loyal fanbase
You will see a lot of familiar names joining your streams every now and then if you set your streaming schedule. They become your fanbase, who will be regular at your streams and will support you as they like you and your content. It'll seem like you are spending time with friends, rather than just streaming.
2. It breeds familiarity with your viewers
Your viewers would know when you stream, on which streaming platform, and also remember the experience from last time. For example, you can have a Friday night chill stream as a part of your regular stream schedule. Viewers who joined your stream last Friday might remember what they did last time and might want to recreate the same experience and environment by looking for your stream on Fridays.
3. Your viewers would know that you are serious about your streams
Streamers who have a set actual schedule have committed their time to their viewers. You have to just declare your actual stream schedule time and show up. It creates a trust factor with your audience that they can expect your presence as committed and take you seriously.
4. Allows viewers to adjust their viewing pattern to include you
Like streamers, even viewers have their rough set time slots when they are free and watch live streams. If you have a consistent schedule and your stream time matches their free time when they watch live streams, they can check you out more often.
5. You can plan and prepare your streams accordingly
Setting a streaming schedule will tell you exactly how much time you have between any two successive streams. As you gain experience, calculate how much time it takes to prepare your content. You can then plan your stream accordingly.
6. Helps you to build a routine and make it a habit to stream
Routine is key in making streaming a habit and treating it more like a profession than a hobby. If you follow your schedule consistently, you will not only get better at streaming but you will also make it a part of your daily routine. Streaming will become seamless and be more natural to you.
7. You are less likely to procrastinate your streams
If you have no idea when your next stream is going to be or just have a vague idea, you are more likely to take it less seriously and procrastinate. There will be no hurry and more time to think. You can experience analysis paralysis, as you end up spending more time on analysis and overthinking, and less on execution.
8. Faster growth for your channel
If you want to give Twitch streaming a chance then you have to be consistent, period. Streamers who have been consistent and showed up had faster growth as compared to streamers who stream haphazardly.
9. Easier to follow and remember your channel timings
You can tell your viewers when and how to find you. Your schedule will help your viewers to find you at your committed time.
In conclusion
Your Twitch streaming schedule sets the entire tone for your channel. It is a vital step some streamers miss out on, limiting their growth. As you set up your schedule, your first hurdle to stream is crossed.
It is equally important to broadcast far and wide to promote your streaming schedule. Let people know when they can find you streaming. Utilize not just Twitch, but other channels as well. Build a consistency that your community will appreciate.
A tight streaming schedule is the first step towards a successful streaming career. All ready? Time to march on!
Using OBS as a broadcast platform? Here are 6 OBS features you must take advantage of today!